Seeing as I've added a few new people and I don't have an intro post to begin with, I figured I'd whip one up quickly. I'll run through myself, the people I talk about most often, and then my fandoms. Sound good? Good.
About Me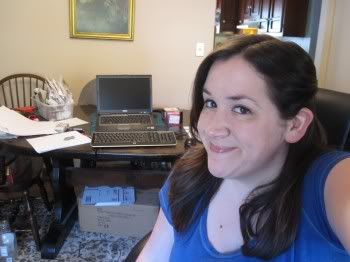 My name is Jessica, but people call me Jess, Jessie, or most recently, JD. I live in Methuen, Massachusetts, which is on the border of New Hampshire. We're about half an hour outside of Boston, for comparative purposes. I'm 24 years old and I live with my mother and my brother, Ryan. I am exceptionally liberal. I used to call myself open-minded, willing to embrace everything, but I've come to realize that I'm a severely close-minded liberal.
I work at Staples and I have for 7 years. It's been my only job ever and I've just recently gone full-time for the company. I work as a front-end manager, or the Customer Service Lead. Basically, when customers are unhappy, I'm the person that gets called over by the cashiers.
I just graduated this past May! I now have my bachelor's degree in English (writing) with a minor in Business Admin. A little background on my college career: I started out as a Chemistry major and lasted a year in a half in that program. I switched to the English (writing) program and picked Business Admin as my minor. I don't really know what I want to do with it, but I have the degree! :D
I'm generally a nice person. I've been told recently that I'm
too nice
. My issue is that I tend to care too much about things that I really shouldn't. If I love you, I adore you. If I don't like you, that's too bad for you. I can be a major bitch if I don't like you, but I will move the earth if I do.
I'm so in love with New York City; it's sick. I haven't gone too recently (the last time was in August of 2010), but I plan on going back soon. I started going for Broadway, but now I just love the feel of the city. I would love to live there at some point, but goodness knows, it's so so expensive there.
I've always been a fan of Tina Fey and Amy Poehler. Just recently, I started to really look to them as serious role models. Two strong, funny, and intelligent women? How can you not? Meeting either of them and just being able to shake their hands would be a dream. But, really. I'd probably cry and sweat and pass out, if I were to actually meet them.
Family & Friends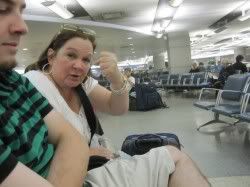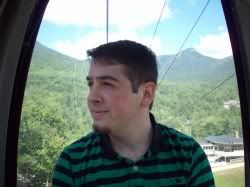 Because I like to see faces with names, that's my mom on the left and my brother, Ryan, on the right. My mother and I have gotten along better recently. Not that we were on bad terms, but it didn't take much for her to set me off. People think she's funny, and I do too at times, but she's my mother, so I'm allowed to find her obnoxious and/or annoying. She's a Republican and I am not, so here is where we butt heads most often.
My brother is 21 and we grew up close and we've stayed that way. He will always be there for me and is always willing to help me out. Of course, I have to nag him, but that's what big sisters are for. He has a girlfriend (Amelia) and they've been together for 5 years now.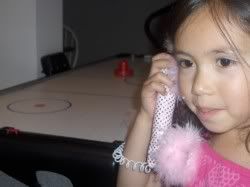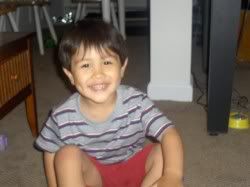 My dad, his wife, and their kids live about 15 minutes away from me. My parents have been divorced since I was 6 and he's been remarried since I was 11. My dad is the more understanding parent, not that my mother isn't, but he's so easy-going and relaxed. We share a lot of the same views, so there are some things that I'm more comfortable talking to him about.
Those two precious kids above are my half-sister, Cailey (11), and my half-brother, Jason (9). My step-mother, Linda, is Asian, hence their gorgeous features. I can't even stand to look at them; they're so adorable. These pictures are old, as I can't find more recent pictures of them right now. I lovingly call them my Asian babies, though never to their faces.
My step-mother is a hard love. She means well, she does, but she's never had kids in college before. She thinks we should be able to breeze through things. So. With me starting my sixth year in college, she never fails to nag me about when I'll be done. She's intensely smart and she's, generally, a nice lady, but she gives me severe anxiety.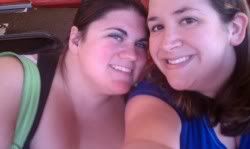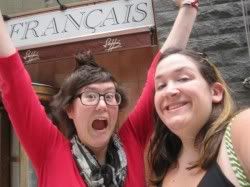 These two ladies are my lifelines. First, on the left, is Ashley. I have been friends with Ashley since we were in fourth grade, so about 15 years. We've had our ups and downs, but I know that if I ever needed anything, she would be there for me, just like I'd be there for her. Her family is like my second family and no matter how long I may go without seeing her or them, I can always fit right back in like I saw them yesterday.
The second, on the right, is Amy. I've been friends with Amy since the end of eighth grade. We had nearly every class together our freshman year of high school, purely by chance. I feel like she's my other half. We have so much in common and she never fails to make me laugh. She goes to school with me still and she has a boyfriend of about two years, Brian.
Fandoms
TV
Glee - Parks & Rec - 30 Rock - Rizzoli & Isles - Grey's Anatomy - Law & Order: SVU - Modern Family - The Colbert Report - Community - True Blood - The Office - Family Guy - Pushing Daisies
Movies
The Wizard of Oz - E.T. - Sound of Music - Beauty & the Beast - Nightmare Before Christmas - 10 Things I Hate About You - Walk the Line - Pride & Prejudice - Pee-Wee's Big Adventure - Enchanted
Books
Pride & Prejudice - Rebecca - Perks of Being a Wallflower - Charlaine Harris' Southern Vampire Mysteries - The Time Traveler's Wife - Lolita - To Kill a Mockingbird
Music
No Doubt - Save Ferris - Bruno Mars - show tunes - Adele - Kelly Clarkson - Sara Bareilles - Heart - Lady Gaga - Lily Allen - Heart - Blondie - Fleetwood Mac - Black Eyed Peas - Letters to Cleo
People
Gwen Stefani - Amy Poehler - Tina Fey - Steve Colbert - Steve Carell - Sasha Alexander - Angie Harmon - Naya Rivera - Heather Morris - Rosario Dawson - Lea Michele - Dianna Agron - Lady Gaga - Jon Stewart - Kathy Griffin - Sara Ramirez - Jessica Capshaw - Rashida Jones - Amy Adams - Kristin Chenoweth - Julia Stiles
Current Mood:

bouncy